What is Matterport 3D Virtual Tour?
Matterport turns your space into an accurate and immersive digital twin-A digital copy.
This is a is a state-of-the-art lidar technology that converts real-world spaces into realistic and interactive digital models. Matterport virtual tour is an immersive and engaging platform that digitally represent the actual space, not the average 360 panoramic tour. By digitising your space with accurate dimensions and multiple views, this is as real as it gets!
Matterport's Pro2 3D camera captures high resolution images in 4K at 134 megapixels and dimensions within one percent of accuracy.  The photos are High-Dynamic Range (HDR) and produce life-like images.

Make Your Business Truly Visible Online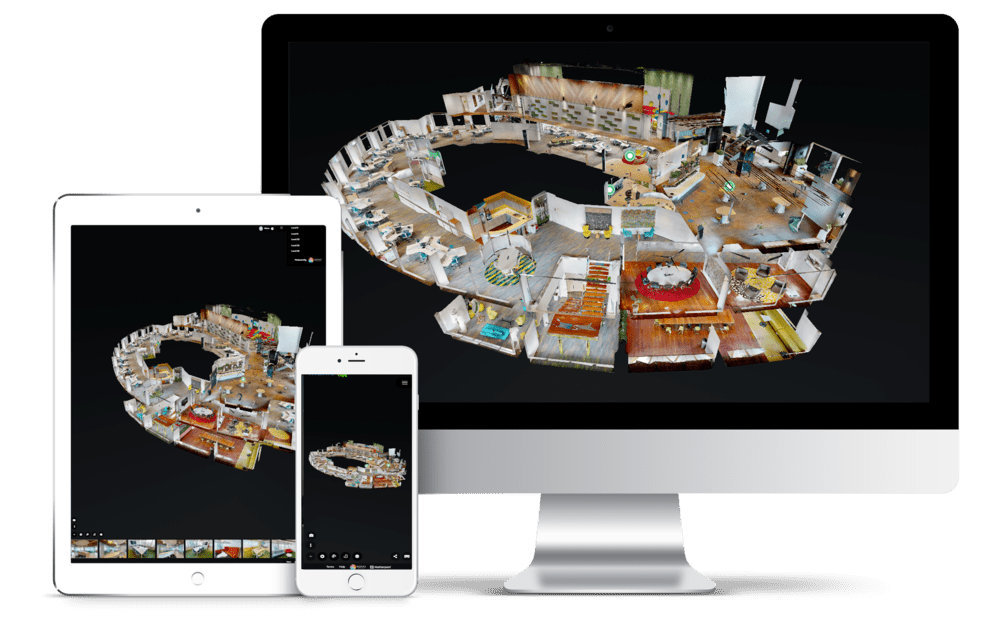 Matterport 3D Virtual Tour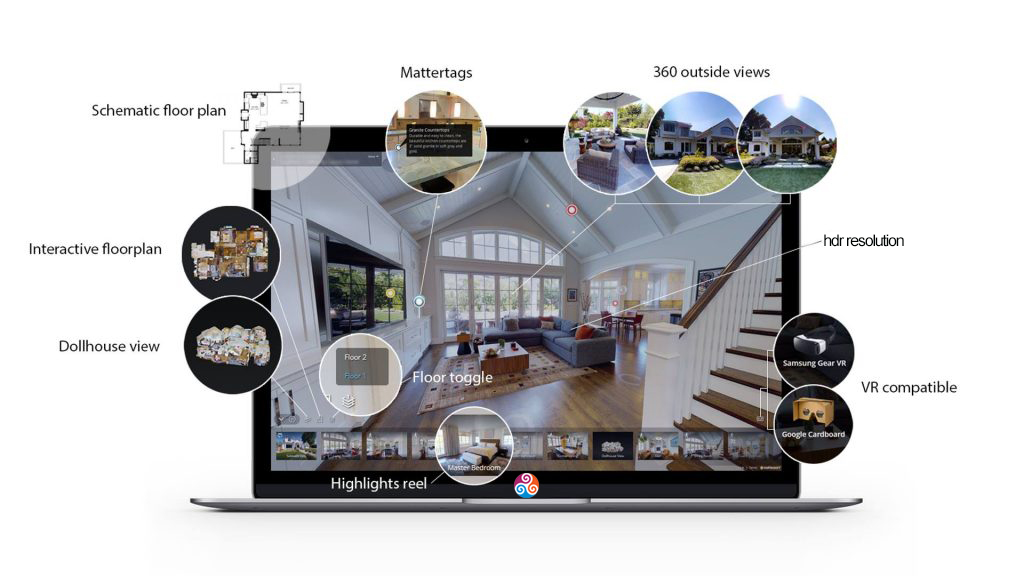 INTERACTIVE TOUR
Online tours of your space that allow your viewer to navigate through the property easily, as if they were there themselves.
DOLLHOUSE VIEW
Dollhouse view gives you a full perspective of the space. You can view the entire place from above and rotate around it or select each floor separately.
FLOOR PLAN VIEW
A top down view of the property to study each floor's layout. A great add-on where you can also get an actual schematic floor plan with measurements generated from it.
MEASUREMENTS
This handy feature allows any viewer to measure objects and rooms within 3D Virtual Tour space which can be used for both residential and commercial properties.
MATTERTAGS
Use context to describe features that you want to highlight as a selling point. Embed text, images, videos, or links for communicating with home buyers, business clients or customers.
How will Matterport 3D Virtual Tour benefits you?
This is digital age, in a post covid-19 world, standard property images are barely enough to entice paying customers to book/buy your space. With Matterport 3D virtual tour, your property comes to life with 360 views and an accurate portrayal of your venue, accessible from anywhere in the world, 24/7
Whether it's hospitality or real estate, customers are more likely to book a brand that maintains transparency with their clients. Matterport sparks that trust with the realistic representation of your space, instilling confidence and reliability in your brand, promotion and offerings
Selecting the Right Matterport Service Provider @Capture Technician
Thinking about getting a Matterport scan done is a great idea, and we are here to help you. Here are some criteria for you to consider:
Experience – Though the Matterport is touted as a push-button operational device, there is actually a learning curve to produce high-quality 3D scans, 3D mapping. We are pioneers in Malaysia with 8+ years experience and we offer more than just the 3D scan or 3D mapping
Expertise – The best-practices used for residential, commercial real estate, event space, vehicles, art gallery is different. Other verticals need unique approaches, which we learned from our 8+ years experience in creating digital twin contents.
Professionalism – Best work, fast turnaround, content support and we keep if needed even a training is provided on how to use. We travel and work throughout Malaysia, Asia and and we do works for multinational clients from around the world. We even represent Matterport for their global client in Malaysia and deliver quality work within set timelines.
Transparency – Our consultation for each client is personalised and we have their best-interests in mind. Solutions offered will be top quality and long-term oriented. We can work within your budget too.
Value add service – No compromises on the number of scans. We don't cut-short the working hours by limiting the no of scan. We do complete scan and we provide value added services like adding logo, music, menus and even virtual staging in you 3D scan. 
Request a Quote
We're always interested in new projects, big or small. Send us an email and we'll get in touch shortly, or phone between 9:00 am and 6:00 pm Monday to Friday.